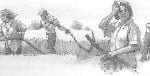 Read for This Week's Study: John 1:40-46, 4:28-30, Luke 24:4-53, Acts 1:6-8, Matt. 9:36-38, Luke 15.
Memory Text: Herein is my Father glorified, that ye bear much fruit; so shall ye be my disciples. (John 15:8)
In many respects this week's study is a continuation of the previous lesson. Christ established spiritual leaders for the distinct purpose of proclaiming the kingdom of God. The principles and methodology that Jesus employed must remain the spiritual foundation for the Christian's preparation today.
In other words, [...]