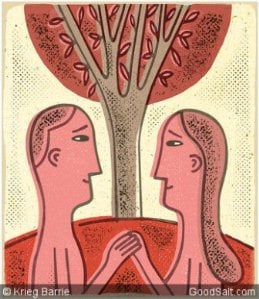 "And Adam said, This is now bone of my bones, and flesh of my flesh: she shall be called Woman, because she was taken out of Man" (Gen. 2:23).1
We need to begin with the initial chapters of Genesis for the first romance in Scripture, that of Adam and Eve. Adam and Eve are special creations of God. Both male and female reflect His image (Gen. 1:26, 27). Both Adam and Eve receive their life as a result of God's incredible creative power. The complexity of our physical bodies remains one of the most powerful testimonies to the wisdom and might of our Creator.
Read the biblical account of the creation of Eve (Gen. 2:21–25). How would you describe the kind of relationship between them as depicted in this account?  
---
---
Perhaps the most obvious point from this account is just how intimately and closely tied together with one another these two are. God creates the woman out of the body of the man; they are, literally, of the same flesh and blood.
Adam then breaks out into what has been called the Bible's first "love song" or "love poem," in which he openly acknowledges just how closely tied they are with each other. In Hebrew, the word for "man" that he uses in verse 23 is ish; the word he uses for "woman" is ishah, again showing just how closely tied they are to each other.
In verse 24, the Bible says that a man will leave his parents and cleave unto his wife, and they shall be "one flesh," another powerful indicator of the intimacy meant for them. (Some have wondered, What parents is the Bible talking about here, because there were none then? The point is, Moses wrote this account many centuries after it happened, and he used the story of their creation to explain in more detail what marriage meant.)
Finally, their nakedness also revealed the intense closeness and intimacy between this first couple.
Whatever else their relationship originally entailed, romantic love was certainly a major part of it. God is not against romance. On the contrary, He created us as beings capable of experiencing it. In fact, that seems to be one of the basic elements He created in us.
Romantic love is such a wonderful, God-given gift to humanity. If you are in a proper romantic relationship, what things can you do to protect it from all that can go wrong?
Amen!

(

0

)

Print/PDF/Email