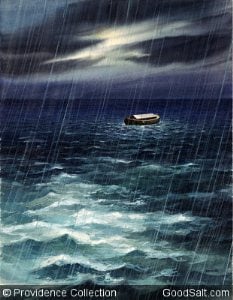 Critics of the Bible make a big deal of the fact that other ancient civilizations had their own flood stories. They argue that the Bible story isn't unique, original, or even true but is merely a copy of some previous myth or legend.1
On the other hand, those who believe that the Bible is the Word of God see these stories as a confirmation of the reality of the Flood. The Flood happened, and Genesis gives the inspired account of it. This account stands in contrast to the other versions, such as the one that says the Flood was sent because humans in their nightly feasting made too much noise and disturbed the gods' sleep. The gods, cranky from lack of rest, sent the flood to punish them.
What reason does the biblical account of the Flood give for the judgment that was to come upon the earth? Gen. 6:5.  
---
---
The idea of humans being so evil that they deserved death and destruction shouldn't be that hard to fathom, not for us today, living as we do in a world where evil just gets worse and worse. The Christian view of human sinfulness, though often derided, is constantly being verified. That we are capable of good deeds doesn't make us good. After all, American mobster Al Capone loved children, was generous to a fault, and treated his friends kindly. Who, though, would call him a good man?
Even amid the impending promise of retributive judgment, how is God's grace revealed in the Flood account? (See Gen. 6:14–22, 2 Pet. 2:5.)  
---
---
By building the ark, Noah was giving the world a warning about judgment. What's implied, too, is that there was a grace period, a chance for the world to turn from its evil ways and accept God's salvation. Ellen White wrote that had "the antediluvians believed the warning, and repented of their evil deeds, the Lord would have turned aside His wrath."—Patriarchs and Prophets, p. 97. The building of the ark offered anyone who would heed the warning a refuge of safety from the coming destruction. No question, judgment was coming. But grace was offered to all who would accept it until it was too late, and the door of mercy was shut.
How often has God revealed His grace to you? More times than you can count, probably. How can you learn to better surrender to that grace and have it mold you into the image of Christ?
Amen!

(

0

)

Print/PDF/Email