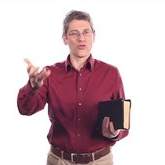 Thanks to the work of a small team of volunteers at Seminar Schloss Bogenhofen (link to video tour), a Seventh-day Adventist seminary in Austria, we can invite lesson author Dr Martin Pröbstle into our homes or our Sabbath School classes to introduce the lesson. The introduction to "The Pre-Advent Judgment" runs just over 7 minutes and would work well as a video introduction in a Sabbath School class.)
WEEK NINE | "The Pre-Advent Judgment" from Seminar Schloss Bogenhofen on Vimeo.
You can see previous videos by clicking on the Seminar Schloss Bogenhofen link.
If you are using a mobile device, the Youtube version will probably work better for you. It runs perfectly in my Android Youtube app:
Amen!

(

7

)

Print/PDF/Email