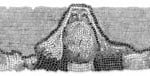 Key Thought: Through the sacrificial system the Old Testament illustrated the terrible cost of sin and the offering of a perfect substitute in the place of the sinner at death.
[Lesson 5: OLD TESTAMENT FAITH              October 29, 2011]
1. Have a volunteer read Galatians 3:1-5
A. Ask class members to share a short thought on what the main idea of this text is.
B. What was the problem many of the Galatian believers had that Paul warned them of being […]