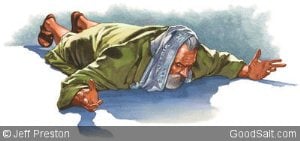 After enduring inhuman suffering at the hand of Satan, Job cries out: "I have heard of thee by the hearing of the ear: but now mine eye seeth thee. Wherefore I abhor myself, and repent in dust and ashes" (Job 42:5, 6). What does this response tell us about God's holiness in contrast to human sinfulness? In what ways is the gospel being preached in Job's reaction to what he experienced? 1
---
---
The prophet Ezekiel, whom God graciously sends to Israel (even though they are captive in Babylon as a result of their unfaithfulness), also experiences the awful presence of God. What happened? (Ezek. 1:28).
Jacob had to flee from home after deceiving his father Isaac and twin brother Esau. What was Jacob's response after his night vision of the ladder to heaven and of God speaking to Him? (Gen. 28:16, 17).
While Israel remained encamped at Sinai, the Lord again descended in the cloud on the mountain and proclaimed Himself to Moses. How did Moses react? (Exod. 34:8).
Daniel, another prophet during the same Babylonian captivity of Israel, also received major visions from God while he served as a high government official.
Though repeatedly told that he is loved in heaven, how did Daniel react when given a vision of God? Why do you think he reacted as he did? Dan. 10:5–8.  
---
---
Even though these men were faithful, godly, and righteous—they were prophets, even!—their reactions to the presence of God was one of fear, of trembling, and of worship. No doubt that was because, among other things, they got a sense of their own unworthiness and sinfulness in contrast to the holiness of God. In their own way, these passages hint at the need of a Savior, a Substitute, Someone to bridge the gap between a Holy God and fallen sinful creatures like ourselves. Thanks to the Lord, we have that bridge in Jesus.
Imagine yourself having a similar experience to one of these men mentioned above. How do you suppose you would react, and why?
Amen!

(

0

)

Print/PDF/Email