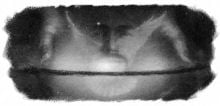 Read for This Week's Study: Deut. 6:4; Phil. 2:6; Matt. 28:19; Gen. 1:26, 27; John 14–16.
Memory Text:
"But you, beloved, building yourselves up on your most holy faith, praying in the Holy Spirit, keep yourselves in the love of God, looking for the mercy of our Lord Jesus Christ unto eternal life" (Jude 20, 21, NKJV).
Key Thought: Scripture contains references and hints to the deity and unity of the divine Godhead.
Though the word Trinity itself doesn't appear in the Bible, the teaching definitely does. The doctrine of the Trinity, that God is One and composed of three "Persons," is crucial because it is dealing with who God is, what He is like, how He works, and how He relates to the world. Most important, the deity of Christ is essential to the plan of salvation.In Scripture, there are three separate but interrelated types of evidence for the Trinity, or tri-unity of God: (1) evidence for the unity of God, that God is one; (2) evidence that there are three Persons who are God; (3) subtle textual hints of God's three-in-oneness.
The distinctions among God, Christ, and the Holy Spirit found in the Bible must be understood as being the way God is in Himself, however difficult for our fallen minds to grasp. The "eternal heavenly dignitaries—God, and Christ, and the Holy Spirit," as Ellen G. White calls them (Evangelism, p. 616), are equal but not identical or interchangeable.
Though some early Adventists struggled with the doctrine, our church today has taken a firm and unrelenting stand on this teaching. As Fundamental Belief number 2 says, "There is one God: Father, Son, and Holy Spirit, a unity of three co-eternal Persons."
Study this week's lesson to prepare for Sabbath, January 7.
Amen!

(

0

)

Print/PDF/Email