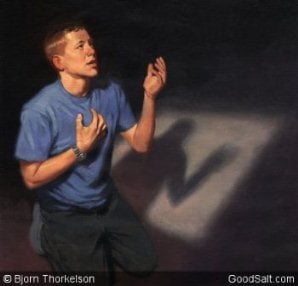 Read Luke 4:31–36. What testimony is given there about the holiness of Christ? What is significant about who gave that testimony too? What lessons can we draw from this story about God's holiness? 1
Demons, who are fallen angels, remember who Jesus really is, and even they—in their nastiness, hatefulness, and rebellion—are constrained to acknowledge Him and that He is holy. Notice, too, that they feared that He was going to destroy them. Why so fearful? It must be that, so full of sin, even demons fear before the presence of God's holiness, somewhat in the same manner that sinful humans do.
In the last book of the Bible, John describes receiving a vision from God. Read Revelation 1:12–17. John, sometimes referred to as the apostle who had the greatest insight into the love of God, has the same response to encountering the Holy God as we saw in the Old Testament.
Moreover, a vision of how celestial beings worship God in the heavenly sanctuary yields a similar picture to what Isaiah depicted centuries earlier in a vision (see Isa. 6:1–3).
What did John hear the heavenly beings around the throne saying? Rev. 4:8, 9.  
---
---
Though God is love and all heavenly beings adore Him, we can see that, around the heavenly throne of God, the worship anthem is not "God is love, love, love." Nor do the heavenly beings cry out, "God is good, good, good." Instead, day and night these mighty beings exclaim, "Holy, holy, holy, Lord God Almighty." Though all heaven is involved in the ministry of God's love and salvation to this world, heavenly beings around the throne of God day and night praise the holiness of God. As sinless beings, they are awed by His holiness, but they don't hide in fear of it, as do fallen beings.
In all the human encounters of the divine as depicted in Scripture, one never finds a suggestion that God is frightening. What we see instead is that, in the piercing light of His holiness, human beings finally see themselves for who they really are. And that is scary. In Scripture, when people truly encounter the God of heaven, we find no hand clapping, backslapping, and lighthearted singing. Rather, there is abject personal repentance. Each one sees and admits their personal guilt and without any excuses and without reference to the faults of anyone else. How different our words, our lives, and our actions would be were we all to live with the constant sense, not only of God's presence but of His holiness, as well.
Amen!

(

0

)

Print/PDF/Email