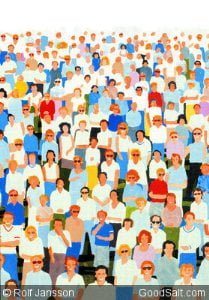 While a searching soul occasionally may approach a Christian and ask, "What must I do to be saved?," for the most part believers must go out in search of the lost sheep. Some suggest that the church acts too much like a fortress from which a few people go out on a campaign or mission in order to collect some converts who are then admonished not to get too close to the world from which they have been saved. Whether this is true or just a perception is not the point. The point is that many Seventh-day Adventists have few, or no, meaningful relationships outside of the fellowship. Though it is important for us to avoid unholy influences, there is a degree to which such isolation detracts from our ability to reach people with the gospel message.1
Examine closely John 17:11–19. What do these verses reveal about the Christian's place in the world? See also Col. 4:2–6. 
From these verses we can list the following truths about Jesus' disciples and the world:
They are in the world (vs. 11).
They are not of the world (vss. 14, 16).
They are not yet to be taken out of the world (vs. 15).
Jesus sent them into the world (vs. 18).
We are all born into this world. While we are here, God also has a work for us to do in it. Just as with His first disciples, Jesus has sent us into the world to introduce whomever we can to Him and the promise of salvation He offers all humanity.
The challenge for each one of us is to intentionally expand our personal mission field. This may mean adjusting our lifestyle in order to rub shoulders with more unchurched people. This is not to say that we compromise principles, convictions, and values, but, rather, that we look for opportunities where we can, in clear conscience, interact with others in a way that will allow us to become both friends and, as a result, channels of God's truth.
Often we major in sending out invitations for the people to come to us. Yet, Jesus actually told us to go to them. Thus, we need to ask ourselves if we have withdrawn too much from the world and therefore lost some of our evangelistic effectiveness?
Look at yourself: do you tend to be too insular, too remote from the world? Or, perhaps, are you too cozy with the world? How can you better learn to be in the world (and thus witness to others) and yet not be "of it"?
Amen!

(

0

)

Print/PDF/Email