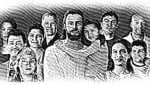 Read for This Week's Study:
John 4:7–30, Acts 2:42, 11:19–23, 2 Tim. 2:1–7, 2 Cor. 5:18–20.
Memory Text:
" 'What is the kingdom of God like? And to what shall I compare it? It is like a mustard seed, which a man took and put in his garden; and it grew and became a large tree, and the birds of the air nested in its branches' " (Luke 13:18-19, NKJV).
Key Thought:
Evangelism and witnessing are the means by which the mustard seed (the church of God) becomes a huge […]