02: The Son – Hit the Mark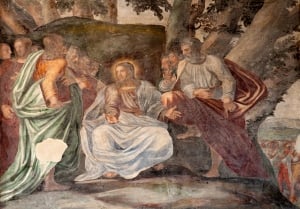 I never really thought about this until this week's lesson on The Son. Hyperbole in speech is so common that unconsciously I took for granted some of the words Jesus spoke to His disciples. But this week, examining who Jesus is, gave me an opportunity to look deeper into my beliefs and convictions.
Jesus had been intensely preparing His disciples for the climatic events that would soon follow. Who He was to them would determine their futures. The nation was stirred and on everyone's lips was the subject of who Jesus was. Jesus asked His disciples what was being said about who He was.
When Jesus came into the coasts of Caesarea Philippi, he asked his disciples, saying, Whom do men say that I the Son of man am? And they said, Some say that thou art John the Baptist: some, Elias; and others, Jeremias, or one of the prophets. Matthew 16:13-14
Many who longed for the Messiah had misconceptions of the Messiah's true role. They looked for a deliverer and a conquering king over their temporal rulers. They looked for someone who would make the nation the head it was destined to be and not the tail as it found itself in reality to be. Sadly Jesus did not fit the narrative of many who claimed to be the chosen people of God.
Just like then, today there are various views about who Jesus is. Some dismiss Him as a relic of history while others limit Him to a prophet amongst many. Others see Him as a deliverer from trials and tribulations more so than a deliver from sins and trespasses. Some want Jesus to unlock temporal success and power as a reward of their alliance instead of unlocking their hearts and minds as a sign of their acceptance.
Not satisfied to know what others thought of Him Jesus asks His disciples one of the most profound questions in the entire Bible.
He saith unto them, But whom say ye that I am? And Simon Peter answered and said, Thou art the Christ, the Son of the living God. Matthew 16:15-16
The answer seems so obvious to me. The disciples had witnessed countless miracles. They heard His exchanges with the people and the religious rulers who constantly dogged His steps seeking to entrap Him by His words.  Of course the answer would be Christ, the Son of God.
Here is where I am guilty of glossing over the words of Jesus.
And Jesus answered and said unto him, Blessed art thou, Simon Barjona: for flesh and blood hath not revealed it unto thee, but my Father which is in heaven. Mathew 16:17
Jesus is saying clearly that without a divine revelation we cannot really conceive of who He is. There is something beyond the logic of man and the gathering of facts that it takes to understand who Jesus is. It is a revelation that is life-changing aptly described by some as a Damascus road experience.
"The truth which Peter had confessed is the foundation of the believer's faith. It is that which Christ Himself has declared to be eternal life. But the possession of this knowledge was no ground for self-glorification. Through no wisdom or goodness of his own had it been revealed to Peter. Never can humanity, of itself, attain to a knowledge of the divine. "It is as high as heaven; what canst thou do? deeper than hell; what canst thou know?" Job 11:8. Only the spirit of adoption can reveal to us the deep things of God, which "eye hath not seen, nor ear heard, neither have entered into the heart of man." "God hath revealed them unto us by His Spirit: for the Spirit searcheth all things, yea, the deep things of God." 1 Corinthians 2:9, 10. "The secret of the Lord is with them that fear Him;" and the fact that Peter discerned the glory of Christ was an evidence that he had been "taught of God." Psalm 25:14; John 6:45. Ah, indeed, "blessed art thou, Simon Bar-jona: for flesh and blood hath not revealed it unto thee." Ellen White, Desire of Ages, Pg 412
I'm praying today that I along with each reader will be open to receive this revelation of who Jesus is and by doing so experience the newness of life He came to give.
Here are a few Hit the Mark questions for this week's lesson discussion:
What is the difference between knowing Jesus theoretically and experimentally?
How does knowing Jesus as the Son of God impact a person's life?
How does one come to know Jesus personally?
Is the following statement True, Mostly True, Somewhat True or Not True: There should be a marked difference in lifestyles between those who know who Jesus is verses those who do not. Explain your answer.
We close this week's lesson with more insight into the reality of divine knowledge:
Now we have received, not the spirit of the world, but the Spirit who is from God, that we might know the things that have been freely given to us by God. These things we also speak, not in words which man's wisdom teaches but which the Holy Spirit teaches, comparing spiritual things with spiritual. But the natural man does not receive the things of the Spirit of God, for they are foolishness to him; nor can he know them, because they are spiritually discerned. 1 Corinthians 2:12-14
Until next week, let's all continue to Hit the Mark in Sabbath School!
Amen!

(

21

)

Print/PDF/Email