Causes of Disunity – Hit the Mark
"Uh, Houston, we've had a problem."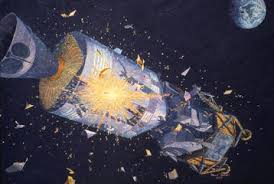 Those were the alarming words of astronaut James Lovell alerting Mission Control that their spaceship was in the middle of a crisis. 48 years ago, streaking 200,000 miles from earth, The Apollo 13 spacecraft had just experienced an explosion that put the lives of all on board in serious jeopardy. Immediately their former mission to land on the moon was replaced with a mission of survival and a return home.
It took the collective efforts of the astronauts on board and scores of technicians in mission control to find a solution to the crisis at hand. It was a time when any hint of disunity would have doomed the precious cargo of lives onboard.
Uh, Church, we have a problem
On a journey to heights way above the earth, our church has encountered a mission-critical problem that is threatening the success of our mission.  We lack unity.  And the result is showing.
The challenges of unity are shared by all levels of our church. We see clear evidence of disunity in our local churches, between conferences and divisions. We see it between General Conference leadership and reporting entities. We see it between cultures and races and most noticeably now, we see it between political ideologies of fellow church members that mirror the strife of worldly powers.
It's of little comfort to know that the issue of disunity is not new to God's people. This week's lesson covers pivotal times of history where disunity led to catastrophic results, none more striking than the story of King Rehoboam.
In 1 Kings 12, we read the story of newly installed King Rehoboam. Seeing it as an opportunity to make life better for the people, it was requested of the king to improve the working conditions of the laborers, with an added promise of servitude.
"Your father made our yoke heavy; now therefore, lighten the burdensome service of your father, and his heavy yoke which he put on us, and we will serve you." 1 Kings 12:4
King Rehoboam tells the people that he will consider their request and answer them in three days. During those three days, he sought the advice of those who had experienced life – the men who had attended his father Solomon.  These elders had first-hand observations of what it took to lead a kingdom and dangers that would threaten its survival and their advice reflected such.
And they spoke to him, saying, "If you will be a servant to these people today, and serve them, and answer them, and speak good words to them, then they will be your servants forever." 1 Kings 12:7
Unfortunately, rejecting that approach the king asked his peers for their advice. Their advice was contrary and divisive. The suggested course of humility and servant leadership urged by the elders was opposite to the prideful and arrogant advice given by his peers. 
And the king answered the people roughly, and forsook the old men's counsel that they gave him; And spake to them after the counsel of the young men, saying, My father made your yoke heavy, and I will add to your yoke: my father also chastised you with whips, but I will chastise you with scorpions. 1 Kings 12:13-14
His pride doomed his leadership. Pride split the kingdom. Pride is dangerous.
There are myriads of issues facing our church today. Resolving the challenges to our traditions, clarifications of our doctrines, questions about our direction and on and on are made more difficult when pride blocks the way of becoming united. Our territorial disputes are often boiled down to pride. Our disputes about doctrine, even when there are legitimate opposing positions, are often made a stumbling block because of pride.
We don't accept being wrong – even though often we are.
Our church's most valued author outside of the Bible cuts through the fog of our debates and disunity. Her simple words are profound and insightful. Here's just one sentence that if personally embraced, would go a long way in fostering unity
If pride and selfishness were laid aside, five minutes would remove most difficulties. Ellen White,  Earley Writings, pg 119 
If we could just step back from the brink for a moment and consider the motives of our hearts and give grace to the motives of our brethren, how often we would find a united path forward instead of stalemates that last generations.
We could take a lesson from the Apollo 13 near-catastrophe. They all had a clear understanding of the danger at hand. Everyone involved devoted all they had to the mission at hand. All ideas and potential solutions were given consideration. It was not about making one person, or one group look better than another. It was about the mission.
As members of God's church, we are a part of the greatest mission ever given to man – to be an avenue of salvation for another. I pray that we could each put aside our differences, swallow our pride, check our egos at the door and work together to accomplish the mission at hand. Adopting the words of Jesus, let us all be about our Father's business.
Here are a few Hit the Mark questions for this week's lesson discussion:
What does "disunity" mean to you?
Does disagreement mean that there is a lack of unity? Explain your answer.
If two sides of a disagreement over church-related issues both feel that they are right, how should the matter be resolved?
What, if any, is the difference between healthy and unhealthy pride?
How does pride hinder the advancement of the gospel?
If I believe my position is right and another one is wrong, should not I resist the wrong position at all cost? Explain your answer.
Is the following statement True, Mostly True, Somewhat True or Not True: The most educated among us should make our primary church policy decisions. Explain your answer.
We close this week's lesson on Causes of Disunity with some cutting words addressed to the early church in Corinth, which is more evidence of how constant this danger is.
Brothers and sisters, I could not address you as people who live by the Spirit but as people who are still worldly—mere infants in Christ. I gave you milk, not solid food, for you were not yet ready for it. Indeed, you are still not ready. You are still worldly. For since there is jealousy and quarreling among you, are you not worldly? Are you not acting like mere humans? 1 Corinthians 3:1-3 NIV
Until next week, let's all continue to Hit the Mark in Sabbath School!
Amen!

(

32

)

Print/PDF/Email