Inside Story: Curse of the Fetish Priest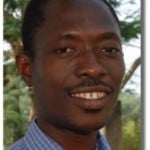 Guillaume Djossou
Giving one's life to God can be a life-or-death decision in some regions of the world. As a lay pastor and church planter working near the city of Cotonou, Benin, I saw this first hand.
When Ann and her husband became Adventist Christians, Ann's father, a fetish priest in Benin, cursed her with death.
One day as Ann sat working under a tree, she noticed dark clouds forming. She gathered her things, but before she could leave, rain started falling. The rain wasn't heavy, so Ann remained under the sheltering tree.
Suddenly lightning struck, and Ann's clothes caught fire. She yanked off the burning cloth wrap, but her back was badly burned. Some Adventist church members nearby ran to help Ann to safety. Ann lost consciousness before they reached a nearby house.
Realizing that Ann's injuries were the work of the devil, the believers read Revelation 12:7-12 and claimed God's power over Satan. Then they prayed for Ann. While they prayed, some people approached the house and began invoking spirits. The believers realized that these were fetish priests, and they prayed even more earnestly, even as the voodoo priests called on their spirits.
When Ann regained consciousness, the believers tried to take her to the hospital. But the priests prevented them from leaving. Finally the police arrived and helped the Christians take Ann from the house. Ann eventually recovered from her ordeal.
At the time the demons attacked Ann, the little Adventist congregation had just eight members. But word spread about how God had saved Ann from the curse of the voodoo priests, and many people came to hear about Ann's powerful God.
Because of Ann's steadfast faith and the family's work in the community, many people have given their lives to Jesus. The little church in the village has grown to more than 50 members.
Your mission offerings are helping to advance the work of God in a demon-infested region of the world. Who knows how many people will hear Christ's message of love because you have given? Thank you.
---
Guillaume Djossou (left) was a lay evangelist when this event happened. He is now studying theology at the Adventist University Cosendai in Cameroon.
---
Produced by the General Conference Office of Adventist Mission.
Find more stories like this at AdventistMission.org
email: info@adventistmission.org
Amen!

(

0

)

Print/PDF/Email