How Do We Know What's Really Real?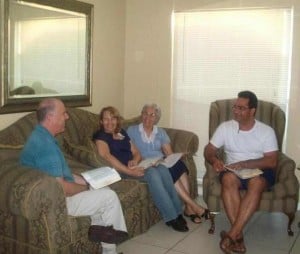 I began collecting baseball cards when I was 11, and Topps was the only baseball card company.  Soon after that, Donrus and Fleer joined the baseball card-making industry. In order to compete with the unwelcome newbies in the market, Topps started printing on their baseball card packages, "The Real Ones!" Even at 11, I knew Topp's claim to be the only "real" baseball card company was nothing more than a mind game. Regardless of the company, they were all pictures on cardboard. How could one be more "real" than the other? Regardless if you were Topps, Donrus, Fleer or a collector, what was "real" in this situation was only a matter of individual perception. So today, many people play mind games, using worldly positions and titles to define who they are. Jesus never did this. He let the Word of God define Who He was.
When studying the prophecies of the Scriptures, many allow worldly circumstances and their perception of reality interpret God's Word. However, when we go by worldly circumstance, reality becomes nothing more than perception.
Right after His baptism, Jesus was led by the Spirit into the wilderness, where He fasted for forty days. Forty days of no food took its toll on the humanity of Jesus. He did not exactly look like, nor probably feel like the divine Son of God. According to Desire of Ages, page 119, Satan took advantage of this opportunity. He appeared to Jesus, not with a red cape and a pitchfork, but as an angel of light. He reminded Jesus that one of the greatest angels in heaven was banished from heaven. Taking advantage of circumstances, with his appearance as an angel of light, compared to the appearance of Jesus after 40 days without food, Satan insinuated that Jesus sure looked more like a God-forsaken angel rather than the Son of God. Then He tempted Jesus to prove that He was indeed the Son of God by turning stones into bread.
Jesus did not look to His circumstances or appearance. He had nothing to prove to Satan. Jesus answered the challenge by saying, "Man shall not live by bread alone, but by every word that proceedeth out of the mouth of God. " Matthew 4:4 Jesus had heard the Word of God, right after His baptism, "This is my beloved Son, in whom I am well pleased." Matthew 3:17 Jesus would not go by circumstances to prove who He was. He did not need bread or any sign to prove who He was. He went by God's Word and God's Word alone, which said He was the Son of God. After a plain "Thus saith the Lord," Jesus did not need a sign.
Three and a half years later, after the resurrection, Jesus was walking along the road to Emmaus. He met two men who were downcast. Not recognizing Him, the men explained that they were sad, because Jesus had been crucified, and they had hoped He would be the Messiah. Again, Jesus did not go by appearances or circumstances. Jesus did not show them His nail-scarred hands and say, "Look, it's me! I was crucified and now I am risen. I am the Messiah." Instead, "beginning at Moses and all the prophets, he expounded unto them in all the scriptures the things concerning himself." Luke 24:27 Jesus did not want them to accept Him based on His appearance. He intentionally kept them from recognizing Him physically, because He did not want them to base their belief on what they saw or felt, or upon any physical circumstances. He wanted them to base their faith on the Word of God alone.
Feelings, appearance and earthly circumstances do not define who we are either. Just as God's Word defined who Jesus was, God's Word also defines who we are. "Behold, what manner of love the Father hath bestowed upon us, that we should be called the sons of God: therefore the world knoweth us not, because it knew him not." 1 John 3:1 Just because two men walking down the road did not recognize Jesus as the Son of God did not mean that He was not. Just because Satan pretended not to recognize Him did not change the reality of the situation. God's Word says we are the children of God. Don't let Satan or the world, circumstance or appearances tell you any different. Let God's Word define your reality.

(

0

)