Why I Can't Believe in Myself
A while back I had a conversation with a young man who was studying eastern religions. He asked me about my faith so I told Him I believed in Jesus. "But this faith in Jesus leads you to believe in yourself, right?" He asked. "No." I said. "It actually makes me not believe in myself at all. Only in Jesus." The young man didn't even try to hide his scowl, and as to this date has not wanted to hear any more about my faith. Apparently believing in oneself is very important to this young man, but how can I believe in myself, when I know all too well what Paul confessed?
 For I know that in me (that is, in my flesh) nothing good dwells; for to will is present with me, but how to perform what is good I do not find. Romans 7:18 NKJV
Hard for me to believe in something where nothing good dwells.
But I see another law in my members, warring against the law of my mind, and bringing me into captivity to the law of sin which is in my members. O wretched man that I am! Who will deliver me from this body of death? Romans 7:23-24 NKJV
Romans 7 knows me all too well. But there is hope! Not in me, but in Jesus.
 I thank God—through Jesus Christ our Lord! So then, with the mind I myself serve the law of God, but with the flesh the law of sin. Romans 7:25 NKJV
My mind wants to serve God but my flesh wants to serve sin. So what is the solution? Paul shares the solution in chapter 8. Many agree that Romans 7 describes the unconverted man while Romans 8 describes the converted man.
There is therefore now no condemnation to those who are in Christ Jesus, who do not walk according to the flesh, but according to the Spirit. For the law of the Spirit of life in Christ Jesus has made me free from the law of sin and death. For what the law could not do in that it was weak through the flesh, God did by sending His own Son in the likeness of sinful flesh, on account of sin: He condemned sin in the flesh, that the righteous requirement of the law might be fulfilled in us who do not walk according to the flesh but according to the Spirit. Romans 8:1-4 NKJV
Jesus took my flesh with nothing good in it and crucified it. Now I can walk in the spirit and the law of love can be fulfilled in me.
 And those who are Christ's have crucified the flesh with its passions and desires. Galatians 5:24 NKJV
In the physical world one must be born before they can die. In the Spiritual world one must die before they can be born.
For the flesh lusts against the Spirit, and the Spirit against the flesh; and these are contrary to one another, so that you do not do the things that you wish. Galatians 5:17 NKJV
When the Spirit wars against the flesh is it the good things or the bad things we cannot do? Which is stronger? The Holy Spirit or the flesh? The previous verse makes it obvious.
I say then: Walk in the Spirit, and you shall not fulfill the lust of the flesh. Galatians 5:16 NLT
So if I walk in the Spirit I have victory over the flesh. Why do I need victory over my flesh? Why can't I believe in my own flesh like my friend wanted me to? Let's examine the works of the flesh and see how many of them are good things to believe in.
Now the works of the flesh are evident, which are: adultery, fornication, uncleanness, lewdness, idolatry, sorcery, hatred, contentions, jealousies, outbursts of wrath, selfish ambitions, dissensions, heresies, envy, murders, drunkenness, revelries, and the like; of which I tell you beforehand, just as I also told you in time past, that those who practice such things will not inherit the kingdom of God. Galatians 5:19-21 NKJV 
Eeeww! I didn't find anything good in there, did you? No wonder Jesus had to crucify my flesh on the cross, and I must die to selfishness daily. See 1 Corinthians 15:31 and Luke 9:23. You may ask how does one die daily? I don't think we can on our own. We must be crucified with Christ. See Galatians 2:20. As we behold Jesus emptying Himself on the cross, the Holy Spirit empties us of self too.
For not even those who are circumcised keep the law, but they desire to have you circumcised that they may boast in your flesh. But God forbid that I should boast except in the cross of our Lord Jesus Christ, by whom the world has been crucified to me, and I to the world. For in Christ Jesus neither circumcision nor uncircumcision avails anything, but a new creation. Galatians 6:13-15 NKJV
It's impossible to look at the cross and glory in my flesh.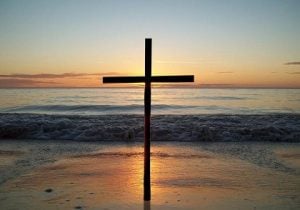 "When I survey the wondrous cross
On which the Prince of glory died,
My richest gain I count but loss,
And pour contempt on all my pride." -Isaac Watts

"What is justification by faith? It is the work of God in laying the glory of man in the dust, and doing for man that which it is not in his power to do for himself. When men see their own nothingness, they are prepared to be clothed with the righteousness of Christ. -Ellen White, Faith I Live by, Page, 111
Now that my glory is laid in the dust, look at what is possible.
 But the fruit of the Spirit is love, joy, peace, longsuffering, kindness, goodness, faithfulness, gentleness, self-control. Against such there is no law. And those who are Christ's have crucified the flesh with its passions and desires. If we live in the Spirit, let us also walk in the Spirit. Let us not become conceited, provoking one another, envying one another. Galatians 5:22-26 NKJV
When the Holy Spirit fills me, this fruit shows up in my life. This is not my works! We saw earlier how disgusting all my works are. No, this fruit is not the results of my works. It is the result of the Holy Spirit living in me and producing His own fruit. 
When we live by faith on the Son of God, the fruits of the Spirit will be seen in our lives; not one will be missing. -Ellen White, Desire of Ages, Page 676 
See why I told my friend the answer is not for me to believe in myself?
 For we are the circumcision, who worship God in the Spirit, rejoice in Christ Jesus, and have no confidence in the flesh, Philippians 3:3 NKJV
"The circumcision" are those like Abraham, who stopped trusting his flesh to produce the fruit that only the Holy Spirit can produce. God had Abraham put away the part of the flesh he was trusting in so He could trust God's promises instead. I pray God will give me another opportunity to talk to my friend again, so I can explain all that is possible when we stop believing in ourselves and believe in Jesus. Then again, the Holy Spirit can have anybody explain that to him. What the Holy Spirit does in me He can do in anyone. After all, it's not me working. It is the fruit of Spirit.

(

32

)