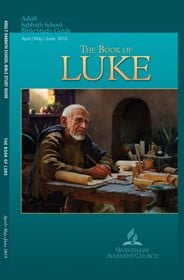 You may download the full lesson quarterly on Amazon in Kindle format. (If you don't have a Kindle, download the reader for the PC, or the FREE app for mobile devices.) And you can download the Kindle version of the companion book for the lesson by Timothy E. Crosby from Amazon.com.
You can order the paper lesson in various formats from the AdventistBookCenter.com. Large Print and Teachers' editions are available only at your local Adventist Book Center or at AdventistBookCenter.com in paper format (with added shipping charges). You can also download PDF files for each week's lesson at the Adult Bible Study Guide site, including the regular Adult Lessons,  Easy English, Teachers' editions. Spanish lessons are under "Other Languages."
More Resources in our Amazon Store.
---
2015 Second Quarter's Study Contents
Contents, including Study References
Current Daily Discussion Online
More Resources for Studying Proverbs
---
Our main lesson version, using Reftagger from Biblia.com and works well on most devices.

Our "Mobile" version uses BibleGateway, with all content left-aligned, which works better for most smart phones.

The References (formerly called "Helps") include all related Scripture and most Ellen White quotations.
This Quarter's Study Contents
Lesson
References
Mobile
1
The Coming of Jesus • March
28 – April 3
2
Baptism and the Temptations •
April 4 – 10
3
Who Is Jesus Christ? •
April 11 – 17
4
The Call to Discipleship •
April 18 – 24
5
Christ as the Lord of the Sabbath

• April 25 – May 1

6
Women in the Ministry of Jesus

• May 2 – 8

7
Jesus, the Holy Spirit, and Prayer

• May 9 – 15

8
The Mission of Jesus •
May 16 – 22
9
Jesus, the Master Teacher •
May 23 – 29
10
Following Jesus in Everyday Life

• May 30 – June 5

11
The Kingdom of God •
June 6 – 12
12
Jesus in Jerusalem •
June 13 – 19
13
Crucified and Risen •
June 20 – 26
Extra Resources for Studying the Book of Luke (available through Amazon). Note that many of our links go to the Amazon Kindle version – whether shown as an image or a link. If, after clicking on the link, you'll scroll down a bit on the Amazon page and look to the left, you'll often find a paperback or hardback version listed as well.
---
For even more resources, visit our Amazon Store.
Amen!

(

12

)

Print/PDF/Email