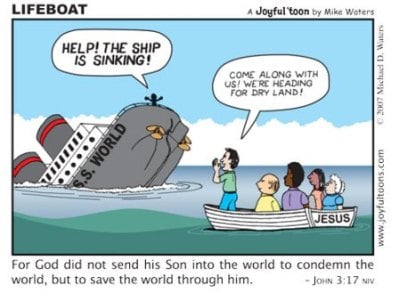 Most everyone is familiar with John 3:16. What comes after, though, helps flesh it out and explain it even better.
Read John 3:17–21. What does it say about judgment? About grace? How do these verses reveal to us how grace and judgment work together? 
The word translated "condemn" in verse 17 is also translated in some versions as "judge." Clearly, though, the context is that of condemnation, because God has made it clear in numerous other places that the world will be judged.
Two themes appear in these texts, grace and judgment, and they are radically intertwined. Sin and darkness and evil have brought the need for a God of justice to judge and condemn these things. At the same time, God's grace offers those who are guilty a way out, and that comes by faith in Jesus Christ.
He that believes in Jesus is not condemned. That's what the texts say. It's that simple. Christ's righteousness covers that person, and that person stands without condemnation, now and in the judgment.
What reason do the texts give for condemnation?  
---
---
According to these texts, the default state of humanity is that of condemnation. And that's because all have sinned and all deserve the death that sin brings. These texts clearly debunk the notion that, after the Cross, all humanity was automatically justified. Instead, after the Cross, the whole condemned world was now offered salvation through the atoning death of Jesus Christ, which was sufficient for every human being. Everyone stands condemned; everyone, though, who through the grace of Christ accepts the provision offered, stands pardoned, justified, and redeemed through Jesus. The condemnation that was theirs is, through the merits of Jesus, canceled, and they stand in His perfect righteousness.
In fact, what does grace mean apart from the prospect of condemnation? Just as the idea of condemnation implies judgment, so does the idea of grace. Were there no potential for judgment (and condemnation), there would be no need for grace. The notion of grace itself all but demands the notion of condemnation. Hence, more reason to see how grace and judgment are linked.
Amen!

(

0

)

Print/PDF/Email