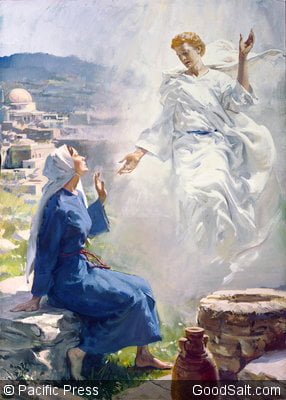 In Luke 1:26-38, the angel Gabriel appears to Mary and tells her that she is going to be the mother of the Messiah. In verse 30, Gabriel tells her not to be afraid.
In Matthew 1:19-25, an angel appears to Joseph in a dream and tells him not to be afraid to marry Mary.
In Luke 2:8-20, an angel appears to shepherds and tells them not to be afraid because of the good news the angel is bringing.
So why does the angel always need to tell people not to be afraid? 1
Fear is one of the first consequences of sin. In Genesis 3:8-10, we read that Adam and Eve hear God coming to them in the garden after they ate the forbidden fruit, and they hide because they are afraid.
Sin leads people to separate themselves from God, to become hostile toward God. And sin produces a fear of death, sin's ultimate end. Satan uses this fear as a weapon against us. However, Christ came to deliver us from sin and its consequences. Without sin, there is no reason to be afraid, and Satan is disarmed.
At this point, I should mention a couple of things. First, there is a difference between feeling afraid and being afraid. A feeling of fear is a normal human response to a number of situations (and in many cases, a healthy response). But it is one thing to have the feeling of fear, and another thing entirely to be afraid – that is, to allow that fear to dictate our behavior. Second, Christians tend to have a complicated relationship with fear because there are numerous verses telling us to "fear God" or to have the "fear of the Lord."
Fear doesn't always mean what we think
But a close look at "fear" in Scripture tells us that fear does not always mean what we commonly take it to mean. Take, for instance, Exodus 20:20, where after giving the Ten Commandments at Mt. Sinai, God's tells the people not to be afraid so that the fear of God would be with them. Clearly, the fear they should have is different from being afraid. This "fear of the Lord" is a respect and reverence for God, as opposed to what we commonly experience as fear.
In Hebrews 2:14-15 we see that through Christ's death, we can escape Satan, sin, and death. And note that it is not sin or mortality that subjects us to slavery; it is fear that subjects us to slavery. This is the foremost reason the angel could tell Mary, Joseph, and the shepherds not to be afraid. And the message is for us as well. Because of the One who came to this earth, there is no reason to be afraid.
In looking at the accounts in Matthew and Luke, we see additional reasons not to be afraid. When Gabriel appeared to Mary, he told her that she does not have to be afraid because she has found favor with God (Luke 1:30). And God demonstrated His favor to her by His work within her – in a very literal way. Likewise, we do not have to be afraid of the work God wants to do in our lives.
Mary wondered how God would work in her life and probably expected it to be in a way she could understand. But that's not what He did. God works through the Spirit in ways that are beyond understanding.
Some thirty years or so later, Nicodemus asked very similar questions (John 3:4-8). Just like Mary, he tried to find a natural explanation for something that God wanted to do in a supernatural way through the work of the Spirit. The questions of Mary and Nicodemus (and the answers to them) should remind us not to let our ideas and imagination limit the work of God in our lives.
When the angel appeared in Joseph's dream (Matthew 1:19-25), he told Joseph that he did not have to be afraid to marry Mary. He did not have to be afraid to act contrary to the expectations of the world around him. The strictly religious people of the day would have expected him to dump Mary and to make sure she was appropriately shamed in the process. To marry her risked that people would think different things about him as well. The people in his community might think he was a fool to keep a woman who had cheated on him and roped him into raising someone else's kid. Or they might conclude that he himself had behaved inappropriately and impregnated her. Neither option would make Joseph look good in the eyes of those around him.
Neither do we need to be afraid
Likewise, we do not need to be afraid to be countercultural and to do things that don't fit in with the expectations of the world around us. We don't need to be afraid to believe and to behave differently. It is okay to eat, drink, and dress differently. And it is sometimes okay to act contrary to the expectations of our own religious community.
The shepherds in Luke 2 were terribly frightened. And it's interesting to note that in this case, those who were most afraid were those who saw the angel closest in time to the coming of Christ – just like many people today. 2012 is here, and many people are afraid: What if the Mayans were right and 2012 is the end of the world? What if Obama is re-elected? What if he isn't? Will the economy get better soon?
In Hebrews 13:5-6, we are told to be free from the love of money and to be satisfied with what we have. Why? Because the Lord is with us and we don't have to be afraid. In Luke 21:25-26, we are told that in the last days, people's hearts will fail because of fear. How bad will this fear be? In Revelation 6:15-16, we see people running away because of the wrath of the Lamb.
I have seen people run from wild animals. I have seen people run from cows and horses. I have seen people run from dogs. I have rarely seen people run from cats. But I have never seen or heard of anybody running from a lamb. How afraid does a person have to be to run from a lamb?
People who are that afraid have not believed the angels' message to the shepherds – Christ the Lamb comes to save! And because He comes to save, we can approach God fearlessly (Hebrews 10-19:22). Because Christ came to live with us, and lives again with the Father, and because the Holy Spirit is with us now, we do not have to fear the day when the Father, Son, and Spirit all come to us, and we go to them.
As Jesus told His disciples. "Let not your heart be troubled; you believe in God, believe also in Me. In My Father's house are many mansions; if it were not so, I would have told you. I go to prepare a place for you. And if I go and prepare a place for you, I will come again and receive you to Myself; that where I am, there you may be also." (John 14:1-3)
Like
(

0

)
(

0

)

Print/PDF/Email