God as Redeemer – Eternal Redeemer!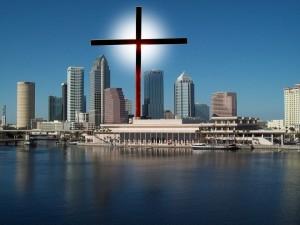 As a Bible Worker in the beautiful Tampa Bay area, I work on the front lines of the battle between good and evil. Many times I have seen families and individuals appear to be overcome by Satan, and it has brought me to tears on many occasions, but then I pray and then remember the power of my Redeemer.
For this purpose the Son of God was manifested, that he might destroy the works of the devil. 1 John 3:8

And he was withdrawn from them about a stone's cast, and kneeled down, and prayed, Saying, Father, if thou be willing, remove this cup from me: nevertheless not my will, but thine, be done. And there appeared an angel unto him from heaven, strengthening him. Luke 22:41-43

The worlds unfallen and the heavenly angels had watched with intense interest as the conflict drew to its close. Satan and his confederacy of evil, the legions of apostasy, watched intently this great crisis in the work of redemption. The powers of good and evil waited to see what answer would come to Christ's thrice-repeated prayer. Angels had longed to bring relief to the divine sufferer, but this might not be. No way of escape was found for the Son of God. In this awful crisis, when everything was at stake, when the mysterious cup trembled in the hand of the sufferer, the heavens opened, a light shone forth amid the stormy darkness of the crisis hour, and the mighty angel who stands in God's presence, occupying the position from which Satan fell, came to the side of Christ. The angel came not to take the cup from Christ's hand, but to strengthen Him to drink it, with the assurance of the Father's love. He came to give power to the divine-human suppliant. He pointed Him to the open heavens, telling Him of the souls that would be saved as the result of His sufferings. He assured Him that His Father is greater and more powerful than Satan, that His death would result in the utter discomfiture of Satan, and that the kingdom of this world would be given to the saints of the Most High. He told Him that He would see of the travail of His soul, and be satisfied, for He would see a multitude of the human race saved, eternally saved. –Desire of Ages, p. 693
I still remember one night in Texas, when I was alone in my home praying for a family that was slipping away from God. I opened my book Desire of Ages to the passage above in the chapter titled "Gethsemane." I still remember the chills that went down my spine as I rejoiced to read those last words, "He would see a multitude of the human race saved, eternally saved." I was so thrilled to read those words! I have never forgotten them. Since then I have clung to those words as over the years I have watched families and individuals triumph over drugs and alcohol, hurt and bitterness, sexual immorality and more. Meanwhile, that family that I was praying and crying for that night? Over the years now the parents have returned to God and are in church every week. The children who seemed so distant from God have grown up. They are in church now and their children are in church.
Sometimes it appears Satan is getting all the victories, but I know this:
Christ rejoiced that He could do more for His followers than they could ask or think. He spoke with assurance, knowing that an almighty decree had been given before the world was made. He knew that truth, armed with the omnipotence of the Holy Spirit, would conquer in the contest with evil; and that the bloodstained banner would wave triumphantly over His followers. He knew that the life of His trusting disciples would be like His, a series of uninterrupted victories, not seen to be such here, but recognized as such in the great hereafter. –Desire of Ages, p. 679
Sometimes the success of the gospel appears small, but even in my little world over time I have seen tremendous victories. I have seen a lady joyfully singing in church who years before told me bitterly she would never step foot in church again. I have seen families laughing and playing together who a while before seemed divided forever. I have seen enough to know the victories are not small and scarce. Multitudes are being redeemed. Eternally redeemed!
To illustrate why we must never give up, I must share an experience I had several years ago, early in my ministry that taught me to never give up. I was a Bible Worker in a small church in Oklahoma. For the sake of anonymity, I will name the couple Joe and Jane. Joe had gone back to drinking and soon he and Jane both stopped coming to church. One night at prayer meeting someone reported that not only had they left the church for the world, but they even told us to stop praying for them. Of course we kept praying any way.
After several weeks I finally found them at home. I thought I had talked them into at least letting me come back to study the Bible with them even if they would not come to church. We set a time for me to come back. When I returned, I was met at the door by Joe. He told me he could not study the Bible with me, because just the thought of reading the Bible made him so sick and depressed, that he could not stand it. So he sent me away. I walked back to my car fully convinced this man must have grieved the Holy Spirit away, since he had asked us not to pray for him, and even the thought of the Bible made him so sick. I decided if he had grieved the Spirit away, there was obviously no reason to contact him again, so I never did. I never saw Joe in church or anywhere else for that matter.
Three years later I was working in North Texas as a Bible Worker when I got a phone call from my mother. She wanted to know what set of Bible study guides I like to use. I told her the "Good News Study Guides" by Don Grey. She told me she needed to get some study guides because my father and she had just begun some Bible Studies with Joe and Jane. I could not believe it! First of all my parents don't normally give Bible studies, and I thought Joe had grieved away the Holy Spirit with his drinking and constant rebellion. While studying with my parents, Joe left his drinking and rebellion and a few weeks later both he and his wife were re-baptized! I called my parents before writing this story. They tell me Joe and Jane continue to be faithful members ten years later.
I believe God used my parents to study with them so that I would be aware of this happy ending for two reasons. 1. To show me I should never give up on anyone. 2. To show me what He was able to accomplish with absolutely no help from me. God is able to work His greatest miracles when I am nowhere in the picture.
I was a young Bible Worker back then with a lot to learn. I have since learned to follow Jesus' example in all I do. The reason I never give up on anyone now is simply this – Jesus left me with no example on how to give up. He never taught us to give up, never talked about giving up, never thought of giving up. Even if someone seems spiritually dead, we do not need to stop praying and give up. Jesus raises the dead! "But God … even when we were DEAD in sins, hath quickened us together with Christ, by grace ye are saved." Ephesians 2:4-5

(

3

)