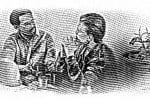 Read for This Week's Study:
Matt. 25:35–40, 1 Cor. 3:1–3, 1 Pet. 2:2, John 6:54–66, Luke 8:4–15.
Memory Text:
"I fed you with milk and not with solid food; for until now you were not able to receive it" (1 Corinthians 3:2, NKJV).
Key Thought:
In all evangelism and witnessing, it is important that we first present the simple truth of the gospel.
Sequential evangelism is a strategy based on the understanding that people will move from one church program to another when the programs are arranged in the right sequence. […]