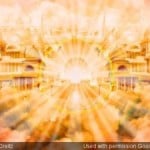 Revelation 20 ends with the elimination of Satan and his hosts.
Revelation 21 opens with a vision of a new heaven and a new earth.
Revelation 21:1-5 carries the promise that God is making all things new. In what ways does this reflect the Genesis creation account? (Genesis 1-2). What are the differences?
The word translated as "new" in Revelation 21:1 emphasizes something that is new in form or quality rather than new, as in a "new" event in time. God's [...]