Ancient God, But Not a Has-Been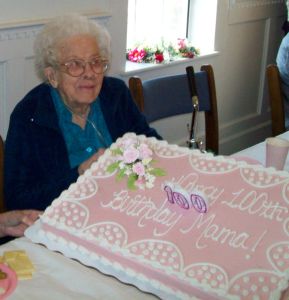 My grandmother on my mother's side passed away a couple years ago at the ripe old age of 100. A person with so many years is quite a treasure to have, with lots of stories about the old days. However, old stories of days gone by is not what I remember about my grandmother.
When I was little I remember playing  the rummy game with her. But as I got older, even until the end, I would go to see her and ask if she wanted to play a game of rummy like we used to. Every time her answer was, "No, I have learned a new game. Let's play it instead." I got tired of having to learn the rules to new games all the time, but every time I turned around, she had learned a new game. She loved talking about current events. She was always open to trying new restaurants. While she was a centenarian, she simply did not live in the past. You had to probe her to talk about the past. Oh, she did not mind talking about the old days once you asked her about them, but she was so caught up in the here and now that those things did not come to mind unless you asked. She was not a has-been. She was always living in the present.
This is how I picture God when I read this week's SS lesson key verse, "'I am the Alpha and the Omega, the Beginning and the End,' says the Lord, 'who is and who was and who is to come, the Almighty." Revelation 1:8 God is not a has-been either. Sure the Bible is full of rich history, but the Bible and God are also very much in the present and future.
When the Israelites entered Canaan they were to take all of the land. However Judges 1 tells us, "And the LORD was with Judah; and he drave out the inhabitants of the mountain; but could not drive out the inhabitants of the valley, because they had chariots of iron." Really? Those chariots of iron were just too much for God, huh? I don't think so. That was no excuse, and God knew it.
Earlier in Joshua 17:8 God Commanded, "for thou shalt drive out the Canaanites, though they have iron chariots, and though they be strong." So what was the problem? Zephaniah wrote about the church, "And it shall come to pass at that time, that I will search Jerusalem with candles, and punish the men that are settled on their lees." Those who are settled on their lees, are riding on their past experience. I imagine this was true of the Israelites when they entered Canaan. They had crossed through the Red Sea and the Jordan River. God had seen them through a lot. Let's stop now and just rest. Why go further? The iron chariots were just the excuse they used to stop where they were, content to rest. They became a bunch of has-beens, relying on past experiences.
That is not my God! That is not the God of the Bible. God is not a has-been. God is not just a historical figure. He is in the here and now! He is always looking forward to the accomplishment of his great plans for the future!
In reviewing our past history, I can say, Praise God! As I see what God has done, I am filled with confidence in Christ as leader. "We have nothing to fear for the future except as we shall forget the way the Lord has led us." (Testimonies to Ministers and Gospel Workers, page 31)
There are many lessons in Bible history to strengthen our faith. As we learn those lessons, we can be satisfied with past experience like the tribe of Judah did in Canaan, or we can be like my grandmother who, even at a hundred years, was ready for the next new thing.
I believe that some of the greatest stories of victory and triumph in the Christian era have yet to be written. I don't believe God wants a church that sits around and talks about the good old days, when our sanctuary used to be filled and our programs used to be strong. I think God is well capable of driving out the iron chariots and making it so that each new day we can say "We have never tasted success as wonderful as the success God had given us today!"
My grandmother could tell you a lot of wonderful stories about how God had led her in the past, yet she was always excited about the present. Even in the nursing home where she stayed briefly, she was making new friends that she dearly loved. She never compared her current friends with her friends from years gone by. She was happy where she was and with whom she was. She loved life to the very end.
But her life hasn't really ended. She has fallen asleep. She needs her rest, because when she wakes up, she has a big day ahead of her!
That's how my God and my Grandmother are. Always ready for the next big thing. And, with God, we can be like that too!
Amen!

(

0

)

Print/PDF/Email