Further Study: The Triune God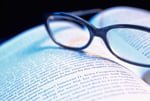 In the doctrine of the Trinity, we do not find three different divine roles displayed by one Person (that is modalism). Nor are there three gods in a cluster (that is tritheism orpolytheism). The one God ("He") is also, and equally, "They," and "They" are always together, always closely cooperating. The Holy Spirit executes the will of both Father and Son, which is also His will. This is the truth that God reveals about Himself all through the Bible.
Some people struggle with the divinity of Christ because of how, while here in the flesh, Jesus had subordinated Himself to the will of the Father. Many see this as "proof" that He was somehow less than the Father. This reality, however, does not reflect the inner structure of the Godhead. This subordination reflects, instead, how the plan of salvation was to operate. Jesus was to come into humanity, becoming "obedient to the point of death, even death on a cross" (Phil. 2:8, ESV). Also, "though he were a Son, yet learned he obedience by the things which he suffered; and being made perfect, he became the author of eternal salvation unto all them that obey him" (Heb. 5:8, 9). These statements reveal that the subordinate role Jesus played resulted from the Incarnation, which was crucial to the plan of salvation. They don't prove that He is anything other than fully divine and eternal.
"'His name shall be called Immanuel, . . . God with us.' 'The light of the knowledge of the glory of God' is seen 'in the face of Jesus Christ.' From the days of eternity the Lord Jesus Christ was one with the Father; He was 'the image of God,' the image of His greatness and majesty, 'the outshining of His glory.' It was to manifest this glory that He came to our world."—Ellen G. White, The Desire of Ages, p. 19.
Discussion Questions:

  Some early Adventists struggled with the doctrine of the Trinity. Today, the church has taken a firm stand on the doctrine. How does this change over time reveal to us the unfolding nature of truth? In your own experience, how have you grown in your understanding of truth? What beliefs did you once hold that, today, you no longer accept?  
 John 8:58 reads: "Jesus said unto them, Verily, verily, I say unto you, before Abraham was, I am." How does this text powerfully reveal the full divinity of Christ? 
Summary:
If we want to deepen our love for the great infinite God we serve and be drawn to worship Him, we first must try to grasp what He tells us about Himself. The Trinity is a mystery, but in Scripture "mysteries" are deep truths that an infinite God reveals to us on a finite level. Thus, we can safely speak of God only from our knees. " 'Hear, O Israel: The Lord our God, the Lord is one!' " (Deut. 6:4, NKJV).
Amen!

(

0

)

Print/PDF/Email