Thursday: The Trinity and Salvation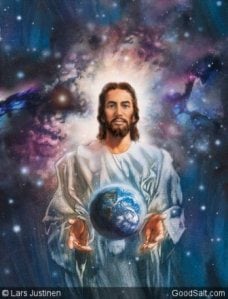 The Gospel of John gives direct and conscious attention to the unique nature of God. John seems to be fully aware of the oneness, yet "threeness," of God. 1
Read Christ's words in John 14–16 and count the number of references to the three Persons of God. How do these passages help us understand the reality of this important truth? 
This passage in the Gospel of John is the most extensive concentration of references to the coequal, three-Person God. Here the inter-dynamics among the Trinity come through repeatedly. The doctrine of the Trinity, far from being a piece of abstract speculation, is the inevitable conclusion that comes from a systematic survey of Scripture.
Of special importance in this context is the deity of Christ. If Christ were not fully God, then all we have is the Lord shifting the punishment for our sins from one party to another, as opposed to taking them upon Himself. The whole point of the gospel is that it was God Himself on the cross bearing the sins of the world. Anything short of this would denude the atonement of everything that made it so powerful and effective.
Think about it: if Jesus were merely a created being, and not fully God, how could He—as a creature—bear the full wrath of God against sin? What created being, no matter how exalted, could save humanity from the violation of God's holy law?
Were Jesus not divine, then God's law would not be as sacred as God Himself, because the violation of it would be something that a created being could atone for. The law only would be as sacred as that created being, and not as sacred as the Creator. Sin itself would not be so bad if all it took were the death of a creature and not the Creator to atone for it. The fact that it took God Himself, in the Person of Christ, to remedy sin presents powerful evidence of just how serious sin is.
Also, our assurance of salvation through what Christ has done for us—and not through our own works—comes from the fact that God Himself paid the penalty for our sins. What could we do to add to that? Were Christ created, maybe we could add something. But with God, the Creator, sacrificing Himself for our sins . . . it's all but blasphemous to believe anything we do could supplement that sacrifice. Thus, were Christ not divine, the atonement would be fatally compromised.
Think for a moment: the Creator of the universe died in your stead, in your place, so you could have the promise of eternal life in Him. How can you learn to draw hope and assurance from this amazing truth? In light of this reality, what else really matters?
Amen!

(

0

)

Print/PDF/Email