Sabbath: The Coming of Jesus
Read for This Week's Study: Luke 1:2-3; 2 Tim. 3:16; Luke 1:5-22; Deut. 18:15; Luke 2:9-12, Luke 2:25-32.
Memory Text: For with God nothing will be impossible (Luke 1:37, NKJV) .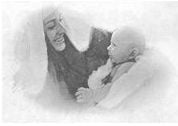 The Gospel of Luke was written primarily to the Gentiles. Luke himself was a Gentile (implied in the context of Colossians 4:10-14), as was Theophilus, to whom the Gospel is addressed.
In addition to being a physician, Luke was a meticulous historian. In introducing the Gospel, Luke places Jesus in real history; that is, he puts the story in the historical context of its times: Herod was the king of Judea (Luke 1:5), Augustus reigned over the Roman Empire (Luke 2:1), and a priest by the name of Zacharias was exercising his turn in the temple in Jerusalem (Luke 1:5, Luke 1:9). In chapter Luke 3, Luke mentions six contemporary dates related to the ministry of John the Baptist, the forerunner of Jesus.
Thus, Luke places the story of Jesus in history—real people, real times—in order to dismiss any idea of mythology with his narrative. His readers must stand in awe and wonder at the fact that Jesus is real and that through Him God has invaded history with the Savior, who is Christ the Lord (Luke 2:11, NKJV.)
Study this week's lesson to prepare for Sabbath, April 4.
Amen!

(

33

)

Print/PDF/Email