Read for This Week's Study: Acts 17:5-9, 10-15, 16-34; 1 Cor. 1:18-2:2; 1 Thess. 2:17-3:10.
Memory Text: "For what is our hope, or joy, or crown of rejoicing? Is it not even you in the presence of our Lord Jesus Christ at His coming? For you are our glory and joy" (1 Thessalonians 2:19, 20, NKJV).
Key Thought: True evangelism leads to relationships that can stand the test of time and last for eternity.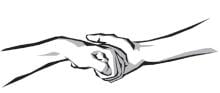 This lesson covers the aftermath of Paul's attempt to evangelize Thessalonica. It would have been easy after such an experience for Paul to focus on the opposition and other obstacles along the way. Instead, Paul's mind was focused primarily on the relationships that he had developed with members of the new Christian community in Thessalonica.
Paul was heartbroken that he wasn't able to spend more time with the believers. He knew that the short time he had been with them would leave them vulnerable to discouragement and negative influences. Not being able to be there in person, he was inspired by the Holy Spirit to write letters to them instead. Those letters make up the books in the New Testament known as "Thessalonians."
Study this week's lesson to prepare for Sabbath, July 14.
Amen!

(

0

)

Print/PDF/Email