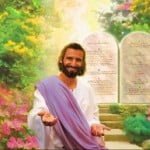 by Keith Augustus Burton
From the very beginning of the great controversy in heaven it has been Satan's purpose to overthrow the law of God."-Ellen G. White, The Great Controversy, p. 582.
Why? Because the law, as the foundation of God's government, expresses the moral integrity of the cosmos; and to overthrow that law would be to overthrow the moral order of the creation itself.
Think about it. If no god existed, and no life either, the […]