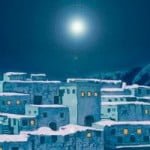 In Micah's book the mood often drastically changes from gloom to sublime hope.
This hope is seen in one of the most famous of all the Messianic prophecies.
Read Micah 5:2. Who is being spoken about here and what does this teach us about Him? See also John 1:1-3, 8:58, Col. 1:16-17.
Out of a little Judean town would come Someone from eternity to be a ruler in Israel. Micah 5:2 is one of the most precious biblical verses written in order to [...]