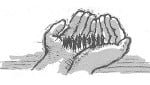 Read for This Week's Study: Mic. 1:1-9, 2 Cor. 11:23-27, Mic. 2:1-11, 5:2, 6:1-8, 7:18-20.
Memory Text: "He hath shewed thee, O man, what is good; and what doth the Lord require of thee, but to do justly, and to love mercy, and to walk humbly with thy God?" (Micah 6:8).
Key Thought: Even amid the worst apostasy, the Lord was willing to forgive and heal His people.
The prophet Micah ministered in one of the darkest periods of Israel's history. The country long had been divided into two kingdoms. Finally, Assyria [...]