The Irresistible Sin of Babylon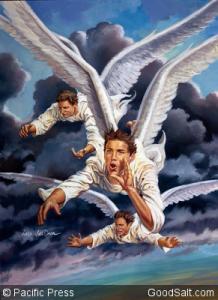 [Editor's Note: When we think of prophecy, our minds often turn to the message of Rev 14:6-10 and Rev 18:4, and we are reminded that it is our responsibility to call God's people out of Babylon. But do we understand the sin of Babylon so we can be sure that we do not participate in the same sin? Stan Hudson explores this topic.]
Some time ago I visited a dear, little old lady who had a great spiritual concern: "Pastor, do you think I've committed the unpardonable sin?" Her wide eyes displayed understandable emotion. I spent the next hour studying with her, reassuring her that her interest in God proved that she hadn't strayed from her Lord.1
Unpardonable sin is a scary concept. But so is Irresistible Sin. Is there such a thing as a sin that is so attractive, so appealing to mankind as to be virtually irresistible?
I personally believe there is. And it is contained in the familiar Biblical symbol of Babylon, found as the arch nemesis of Israel from Genesis to Revelation. I further believe that our own church is confronted right now with the predicted threat of Babylonian thinking.
Let's start in Genesis 11 with the birth of Babylon at the Tower of Babel story; we can see some early characteristics immediately. After the Flood, people traveled to the plain of Shinar in Mesopotamia and began building the tower because:
They were getting tired of religious people (Noah and Shem talking of the Flood)
They wanted to see if there was a naturalistic explanation of the Flood (a tower to the heavens from whence destruction came might give scientific answers)
They were fearful of God, distrusting His promise to not send another Flood and
They wished to formulate a new cosmic paradigm.
Ellen White agrees:
"The dwellers on the plain of Shinar disbelieved God's covenant that He would not again bring a flood upon the earth. Many of them denied the existence of god and attributed the Flood to the operation of natural causes. Others believed in a Supreme Being, and that it was He who had destroyed the antediluvian world; and their hearts, like that of Cain, rose up in rebellion against Him. One object before them in the erection of the tower was to secure their own safety in case of another deluge. By carrying the structure to a much great height than was reached by the waters of the Flood, they thought to place themselves beyond all possibility of danger. And as they would be able to ascend to the region of the clouds, they hoped to ascertain the cause of the Flood. The whole undertaking was designed to exalt still further the pride of its projectors and to turn the minds of future generations away from god and lead them into idolatry." [Emphasis mine] Patriarchs and Prophets, p. 119.
This would be a combining of science and religion. And it started with man's first attempt to find an alternative explanation to God's appointed witnesses regarding the cosmos. Instead of clarity, they got confusion.
In the next chapter of Genesis 12 God calls Abraham out of Babylon ("Ur of the Chaldees"), to begin the nation that would become Israel and thus preserve the correct understanding of the cosmos that was being threatened by false cosmologies (read "idolatry").
Many have long felt that the First Commandment is an anachronism. Idolatry has been mostly dead since the fourth century (well, except when people buy SUVs!). Archaeologists have tended to identify every curious object or structure as religious in purpose. After all, before enlightenment came, ancient man was mired in such silliness.
This was illustrated to me at a Griffith Park Planetarium program I attended in Los Angeles some years ago on how Stonehenge was constructed. Stonehenge, that great "worship center" in central England, was built with truck-sized stones, perfectly aligned with the study of the heavens in mind. The artist's rendering depicted these early Brits as hunchbacked and loin-clothed! I rather think the ancient people were more like us, with similar issues and similar spiritual challenges, including operating in false cosmic paradigms.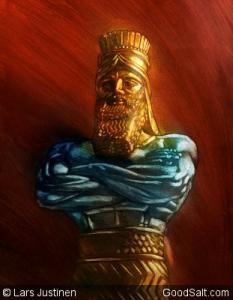 If there was a single issue that Israel would struggle with over the next millennium most, it had to be idolatry. From the Exodus to the Exile, this problem was virtually irresistible. Many stories illustrate this. But it was Babylon itself that would present the greatest danger. 2
When Hezekiah wanted to impress Babylonian ambassadors sent to wish him a swift recovery from illness, he was rebuked by Isaiah: "Behold, the days are coming, when all that is in your house, and that which your fathers have stored up till this day, shall be carried to Babylon; nothing shall be left, says the LORD. And some of your sons, who are born to you, shall be taken away…." II Kings 20:17,18. It was this desire to be like Babylon that led to God's judgment that His people dwell there, causing a number of Israel's precious youth to be lost.
But for God the final painful development was when Babylonian idolatry had entered His education and worship center, the Sanctuary: "Then He said to me, 'Son of man, look toward the north.' So I looked, and in the entrance north of the gate of the altar I saw this idol of jealousy. And He said to me, 'Son of man, do you see what they are doing—the utterly detestable things the house of Israel is doing here, things that will drive me far from my sanctuary?'" Ezekiel 8:5,6. To Babylon Israel would go for 70 years.
But it is so hard to come out of Babylon! At the end of the 70 years exile Daniel poured his heart out to God in prayerful lament, "We have been wicked and rebelled; we have turned away from your commands and your laws. We have not listened to your servants the prophets, who spoke in Your name…." Daniel 9:5,6. But the 70 years came and went, and God's people were still in Babylon! Chapter 10 records Daniel's 21-day fast over this; a mighty angel reveals that he was unable to persuade the Persian king to issue the decree to end the exile. It was only when Michael (the pre-incarnate Christ) intervened that God's people could leave Babylon.
This is the only place I know of where an angel failed in his God-appointed mission! It is not easy to pry God's people out of Babylon.
Daniel's stories about Babylon reveal her two great inadequacies: #1 Babylon has difficulty in recognizing God's hand. The physical hand of Daniel 5 is symbolic of this. Nebuchadnezzar struggled with the understanding that God was completely in control of planet earth's history, actively causing events to shape the future, raising up and deposing kings and kingdoms. #2 Babylon has difficulty in interpreting God's Word. Again, the intellectual brain trust of the entire kingdom could make no sense of God's simple written word, as His hand wrote four words on the wall of the banquet hall. Babylon thus has trouble both in interpreting nature and revelation. Daniel's harsh rebuke of Belshazzar shows that human pride was the root cause.
The effects of the Babylonian captivity on God's people were significant. Perhaps the most obvious one is the losing of the Hebrew spoken language. In just two generations (70 years), Israel ceased speaking Hebrew and adopted Aramaic, the language of Babylon. It was still so in Jesus' day. It would be good to remember that Jesus said "Come unto Me, all ye that labor and are heavy laden, and I will give you rest" in Babylonian! God's people have not fully come out; we still speak, eat and breathe Babylonian.
Which brings us to the other end of Scripture, the book of Revelation. In earth's last days, Babylon is still Israel's archenemy. The Three Angels' Messages begins with a judgment hour call to worship God as creator and as judge (the "fountains of waters" is almost certainly a reference to the Flood). The next angel announces the fall of Babylon (finally!). Babylonian thinking is presented therefore as in direct opposition to accepting God as the Creator and Judge as revealed in Genesis.
What is "Babylon," then? Some of my church members think it's Christian rock! Traditionally, we've understood it to represent those Christian denominations that have compromised Scripture with the "traditions of men." We have sometimes lumped all systems of false worship together in this basket.
I'd like to suggest this as a new definition of Babylon: "Any cosmic paradigm where the Creator God Who speaks is lowered to a place below human intellect." Alternately, "Any paradigm where man is supreme." And that is simply a sin that is irresistible. One need not have even a fallen nature to succumb (1/3 of the angels, as well as Adam and Eve come to mind). The broad way is full of Babylonians.
The Church today is deeply affected by such paradigms. Culture has power. It displays itself in theologies and scientific thought where human intellect always trumps the Word of God. Revelation becomes secondary to reason. It is irresistible idolatry.
How shall Israel leave Babylon? As it was in Daniels' day, so it will be today. Only by the power of Michael (Jesus), will Israel be pried loose. Only by dropping human pride into the dust in the presence of the Word made Flesh will confusion break forth into the clarity of truth. And perhaps not until the church enters into a time of fasting and prayer.
_________________
By Stan Hudson, D. Min., Pastor of Moscow, ID and Pullman, WA
Amen!

(

5

)