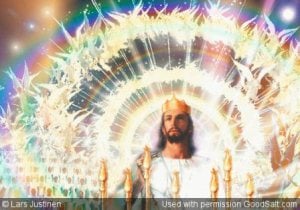 The deity of the Father is scarcely, if ever, in dispute. Those who question the Trinity often challenge the deity of Christ. Were Christ anything but eternal and fully divine, the plan of salvation would be seriously compromised (see Thursday's lesson). 1
How does Paul, once a rigid Pharisee, talk about the deity of Christ? Phil. 2:6.
---
---
For a Pharisee grounded in the Old Testament teaching of the Oneness of God, this is an astonishing statement, because it reveals Paul's deep commitment to the deity of Christ.
The book of Hebrews—written to Jews who were strong monotheists, as was Paul—contains potent statements underscoring the deity of the Son of God. In Hebrews 1:8, 9, Christ's divine nature is powerfully and explicitly expressed.
Most important in revealing the deity of Christ is Jesus' own self-consciousness. He didn't march through the streets of Jerusalem with a triumphal chorus proclaiming His deity. Yet, the four Gospels include many threads of evidence that reveal that this is how He understood Himself. Jesus repeatedly claimed to possess what properly belonged only to God: He spoke of the angels of God as His angels (Matt. 13:41); He claimed to forgive sins (Mark 2:5–10); and Jesus claimed the power to judge the world (Matt. 25:31–46).Who else but God could, rightfully, do that?
Review how Jesus accepted the worship of various people in the Gospel records. Matt. 14:33, 28:9, Luke 24:50–52, John 9:35–38. Compare His actions with Paul's (Acts 14:8–18). What does Jesus' acceptance of all this worship reveal about His deity?  
---
---
At His trial, one accusation against Jesus was that He claimed to be the Son of God (John 19:7, Matt. 26:63–65). If Jesus did not regard Himself as God, this was a critical opportunity for Him to correct a mistaken impression. Yet, He did not. In fact, it was at His trial before Caiaphas that He affirmed His own deity under oath. Hence, we have powerful evidence from the Bible of the deity of Christ.
Take some time to dwell on the life of Jesus and, as you do, focus on the fact that He was God Himself, the Creator of the universe. What does this tell us about God's love for the world? Why should you draw much comfort and hope from this amazing truth?
Amen!

(

0

)

Print/PDF/Email