Inside Story: Breakthrough at Bebe Village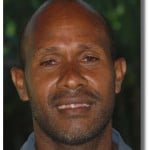 Wilson Kuki
In the Solomon Islands and many other island nations of the South Pacific, individual villages and even entire regions are under the domain of a single church. It's often difficult to gain access to these villages, for the people's culture and identity are wrapped up in their church affiliation.
As a Global Mission Pioneer, I wanted to enter one of the villages dominated by another Protestant denomination. I asked permission to take some Adventist young people to the village to do community service work. The village leaders agreed to let the young people help repair the church roof, but they wouldn't allow us to hold public meetings. We agreed.
The village provided a house for us while we worked, and as the young people worked with the villagers, they became friends.
Every morning and evening we gathered outside our house to sing and pray. Some of the villagers joined us, and this strengthened bonds of friendship.
We had planned to spend Sabbath at a small Adventist church in a nearby village, but the religious teacher of our village invited us to worship in the church we were repairing. We gladly accepted, but we were surprised to find this man had invited the villagers to join us for worship. The majority of the village came to our worship that day. We told Bible stories using picture rolls and sang songs of praise. The people loved it!
After worship a man named George told us that he had been accused of sorcery and had been beaten to drive the spirits from him. He was knocked unconscious, and no one helped him. With tears in his eyes, George explained that he felt he had been rejected by his own village.
We prayed with George and gave him a Bible that he had requested. We arranged to return to the village and study the Bible with him. When George learned that I planned to hold evangelistic meetings in the next village, George gladly agreed to come.
We invited others from the village to join us for Bible studies, and several have asked for Bibles. We promised to give them Bibles if they'd come to our meetings, and many did. They're thrilled that other Christians would come and help them repair their roof and worship with them. A little kindness goes a long way toward building bridges—and church roofs.
---
Wilson Kuki is a Global Mission Pioneer working on Guadalcanal in the Solomon Islands.
---
Produced by the General Conference Office of Adventist Mission.
Find more stories like this at AdventistMission.org
email: info@adventistmission.org
Amen!

(

0

)

Print/PDF/Email