Sabbath School Net US Store
 [Quick link to items in our store | Go to Amazon.com |Canadian store | UK store | How our store works | Go to Sabbath School Net Blog | Go back to Facebook]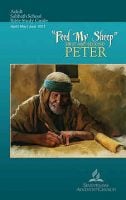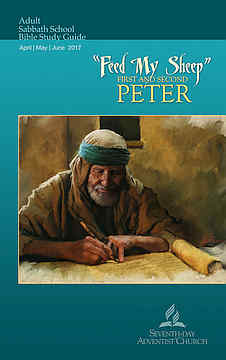 (Most of the resources below are available in Kindle format. You can read these ebooks on your PC, iPad, Android phone or iPhone after downloading the free Kindle Reader: Download the Kindle reader for the PC, or the FREE app for mobile devices.)
You may download the full lesson quarterly from Amazon in Kindle format and read it in your free app. (Canadian Link, UK Link) This will look very much like the paper version, but without some of the ads. As is usual for Kindle books, you can highlight passages with different colors, and you can make notes right on your pad or phone. Your notes will be kept in a "Notebook" attached to the book. But the Bible texts are not linked the way they are in the web version. (It is useful to keep a Bible app open in another window.) You can also highlight and copy passages or even whole lessons into another app or email from your phone, but not from your desktop computer.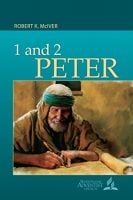 And you can also download the Kindle version of the companion book for the lesson by Robert McIver, First and Second Peter (Bible Bookshelf Series). (Canadian link, UK link) Again you can highlight, make notes, copy short clips and paste to Facebook, email, or whatever. (This doesn't seem to work on the desktop app, but only on the mobile Kindle app.) Robert McIver has this to say about the book: "This book starts with a careful examination of the text of 1 and 2 Peter and then teases out the implications that the words of Peter have for the everyday life of a Christian. It has many of the characteristics of a commentary. For example, it considers the historical, social, and literary background of the passages under consideration, and it comments on the meaning of many of the key words and other features of the Greek text of the epistles. From time to time it does what Peter himself does in his letters by considering the practical application of the theology expressed to the everyday life of Christians."
Also by Robert McIver: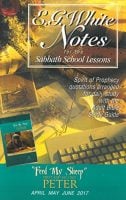 Ellen White Notes 2017b, Pacific Press version (Amazon Canada link | Amazon Great Britain link.) are available in Kindle format. No author or editor named. Relevant passages are supplied for each day's lesson, mainly from commonly known books, such as Desire of Ages, Christ's Object Lessons, Acts of the Apostles, In Heavenly Places, etc. (You can download many of these for pennies or for free. Also available in audio versions. Click on the links above. )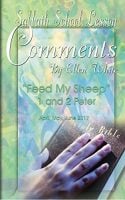 Sabbath School Lesson Comments by Ellen White (Amazon US link) This is an alternate set of Ellen White comments on the 1 & 2 Peter lessons, edited by J. L. MalmedeVanAllen. (Amazon Canada Link | Amazon Great Britain Link) In this version of Ellen White comments, each day's lesson begins with the main text from the actual Adult Bible Study Guide, followed by quotations from more obscure sources, such as original manuscripts, original periodicals, etc. The quotations are slightly longer than those in the Pacific Press version.
S.D.A. Bible Commentary Volume 7, 1957 Ed. (Ellen G. White Comments Only) Kindle Edition This digital version covers the Ellen G. White comments on the books of Philippians, Colossians, 1 & 2 Thessalonians, 1 & 2 Timothy, Titus, Philemon, Hebrews, James, 1 & 2 Peter, 1, 2 & 3 John, Jude and Revelation.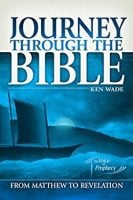 Journey Through the Bible from Matthew to Revelation, by Ken Wade. The third in Ken Wade's Journey Through the Bible series includes 1 & 2 Peter.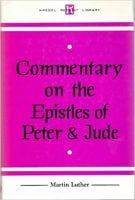 Wade approaches the text from a practical Christian perspective. Only available in Kindle format.
Martin Luther's Commentary on Peter and Jude(Grand Rapids: Kregel Publications, 1982) as mentioned in the Introduction to the 2017b quarter. This is only available in hardback format.
More Resources on the Holy Spirit and Spirituality
---
Store Below Still Works But Is Not Current
Works best on desktop computers. On phones, it's necessary to scroll or hold phone sideways. (Lots of good stuff in there!)
Click on the links in the left column below to see selected materials from Amazon.com to aid you in your studies and your Christian walk. Kindle ebooks are downloadable many places world-wide. Most links require you to click through to Amazon.com where you can also see the hard-copy versions. Check whether the Digital Music and Instant Videos are available where you live. See our Canadian store and our UK store for any "hard goods." (Electronic goods seem to  work fine through the Amazon.com link.)
From the store, you can go directly to Amazon.com any time, by clicking on "Powered by Amazon."1
As a member of the Amazon Associate program, we receive a small advertising fee for your order when your order is initiated by a click through one of the links on our site.
---
Even if a product is not listed in our store, Amazon will pay a small advertising fee for your order, as long as you enter Amazon through one of our links. American users can get good deals on anything from art to furniture, because shipping is often free. For the rest of us, digital content is more practical. ↩
Amen!

(

25

)

Print/PDF/Email