The Holy Scriptures, Old and New Testaments, are the written Word of God, given by divine inspiration through holy men of God who spoke and wrote as they were moved by the Holy Spirit. In this Word, God has committed to man the knowledge necessary for salvation. The Holy Scriptures are the infallible revelation of His will. They are the standard of character, the test of experience, the authoritative revealer of doctrines, and the trustworthy record of God's acts in history. (2 Peter 1:20, 21; 2 Tim. 3:16, 17; Ps. 119:105; Prov. 30:5, 6; Isa. 8:20; John 17:17; 1 Thess. 2:13; Hebrews 4:12.)
---
* Click here to jump directly to comment section, if you wish *
---
See also these Bible lessons from previous years:
(Brief excerpts given. See the URLs for much more.)
---
The following related blog posts also address the subject: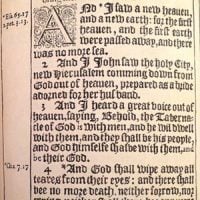 The King James version of the Bible is often considered the gold standard for modern translations, but few of us are familiar with its history, mandate, publication and early printing. This article provides a brief glimpse in the hope that we will understand it and its historical context a little better. The Bibles in Use … Continue reading –>
Amen!

(

2

)